Donate to Encircle here through GiveNow.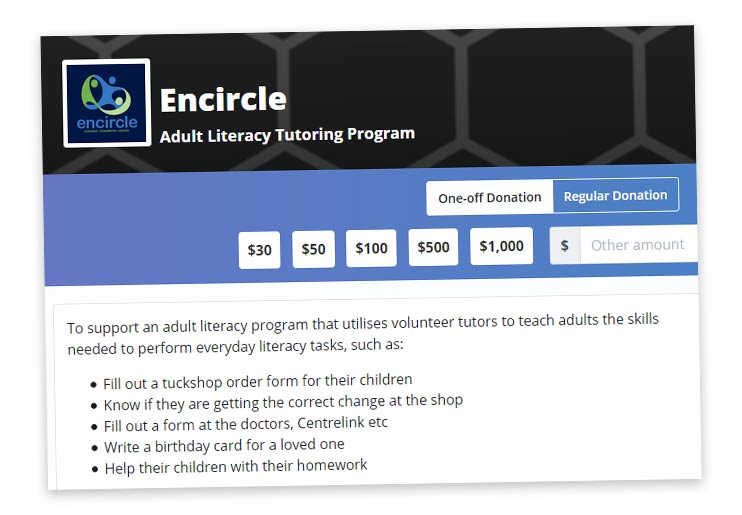 Donate to Encircle and support an adult literacy program that utilises volunteer tutors to teach adults the skills needed to perform everyday literacy tasks, such as:
Fill out a tuckshop order form for their children
Know if they are getting the correct change at the shop
Fill out a form at the doctors, Centrelink etc
Write a birthday card for a loved one
Help their children with their homework
This is a free program for adults to receive one-on-one tutoring for reading, writing and maths.
All donations made to us over $2 are tax deductible.
Donations contribute in a very practical way to supporting the well being of individuals and families in our community.
Financial support is required to enable us to deliver support and education programs in addition to the funds provided by the Government.
Some of our much needed services are largely unfunded.
How will the funds be used?
To support:
the recruitment and training of volunteers
the matching of students to volunteer tutors
the supervision of volunteers while they are working with students
regular social activities to enhance social skills of students
Donate to Encircle. Your donation will help continue a program that changes the lives of adults.
Through this program adults have been able to:
Enrol in a Tafe course
Get their learner's permit
Read a story to their children
Fill out a camping application form
Write a story about their lives
Do their job with confidence
Get their Driver's license
What is a Bequest?
A bequest is a gift made in a will. A bequest can consist of money, property or an estate. You can make bequests to individuals, companies, associations or charities. A bequest is a gift that lasts longer than a lifetime.
Making a bequest to the Pine Rivers Neighbourhood Centre will ensure that we can continue to provide outstanding services for the community. Bequests can be large or small and will impact many individual's lives in a positive way.
What will my Bequest be used for?
A bequest made to the Encircle Neighbourhood Centre can be used to support a number of different activities which we offer at the centre:
Courses and Groups for children, teenagers and adults in a peer support environment e.g. self-esteem courses, parenting courses, personal development, family relationships, youth arts, adult literacy etc.
Counselling Programs
Family Support Programs
Community activities including family fun days and community support groups.
You can choose how your bequest is used!
You have the choice of dedicating your bequest to a specific program, area or activity that you are passionate about. Or you can make a general bequest that benefits all of our support services. It is up to you!
Will my bequest be acknowledged?
If you decide to make a bequest to the Pine Rivers Neighbourhood Centre you will be asked whether you would like your bequest acknowledged. If you decide that you would like your bequest acknowledged, the Pine Rivers Neighbourhood Centre will contact you in order to discuss the best way to do this.
How do I make a bequest?
If you are planning to leave a bequest, we advise you to seek the advice of your solicitor or trustee. However, the following wording can be included in your will.
Are there different types of bequests?
Yes. These include;
General bequest: Involves a percentage of an estate or money to be donated.
Specific bequest: Requires bequeathers to detail the exact property or belongings they wish to donate.
Residuary bequest: Involves distributing the remainder of an estate after all debts, taxes and expenses are paid.
Suggested wording for General or Specific bequest
"I give sum of/percentage* (the actual amount written in words and in numbers) to the Pine Rivers Neighbourhood Association Inc. A.B.N 87 944 092 271to be applied for the general charitable purposes (or specific purposes) of the Pine Rivers Neighbourhood Association Inc. and in respect of such legacy,I declare as follows:
A general charitable intent shall apply;
The receipt signed by a person authorised from the Pine Rivers Neighbourhood Association Inc. shall constitute a full and sufficient discharge to my executors and trustees; and
My executors and trustees shall not be obliged to see or enquire into the application of money or assets, the subject of such legacy."
[*delete whichever is not applicable]
If you are planning to leave us a bequest, please let us know by calling 07 3889 0063 or email
Email us here, alternatively, you can write to us at: PO Box 489, Lawnton QLD 4501.